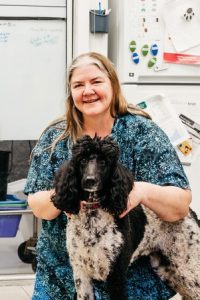 ELEANOR DUNN, DVM
Medical Director & Owner
Dr. Eleanor Dunn has been committed to providing extraordinary veterinary care to patients and their families in Oakland for over 30 years. She is the founder of The Grand Lake Veterinary Hospital and is a skilled medical diagnostician as well as a general practice surgeon. Dr. Dunn strongly believes in a holistic approach to veterinary medicine, integrating all her years of training in medicine, surgery, and dentistry with acupuncture, herbal therapy, and nutritional therapy. Her passion for helping her patients live the happiest, healthiest lives they can through individualized care is evident in everything she does. Her goal is to educate clients and make her patients and their families feel valued and taken care of. Her guiding philosophy is that life feels more full when you extend yourself to others.
Dr. Dunn started her journey to becoming a veterinarian as the youngest of seven children in Illinois. The household abounded with cats, dogs, mice, and rats. In high school, she gained experience with goats, sheep, pigs, and cows on her brother's farm. She attended Middlebury College, graduating summa cum laude. She created her own major in biology and physics and worked in human medical research in neonatology and ultrasound. She went to the University of Illinois Veterinary School, graduating salutatorian in 1986. While she will always have a love of research, veterinary medicine combined her passion for science with her love of animals and sharing her knowledge with the families that own them.
Dr. Dunn has always been a knowledge seeker. She is not satisfied until she has answered the question, "why, or how can we do better?" She was a boarded diplomat of the American Board of Veterinary Practitioners for 20 years. Later in her career, frustrated that western medicine alone did not have all the answers, she became certified in veterinary acupuncture. She also extensively studied nutrition therapy and Chinese herbal medicine. She brings her research background and evidence-based eye to everything. Don't be surprised if she says "Well, the clinical research says…" during your visit.
When not at the hospital, she enjoys spending time with her husband, two children, cat Tigerlily, and dog Zephyr. She is a long-time supporter and board member of the Friends of Sausal Creek, which has worked for decades to restore Oakland's prized Dimond Park and Canyon. She loves hiking, nature, gardening, studying local history, and genealogy.
*Not currently accepting new clients*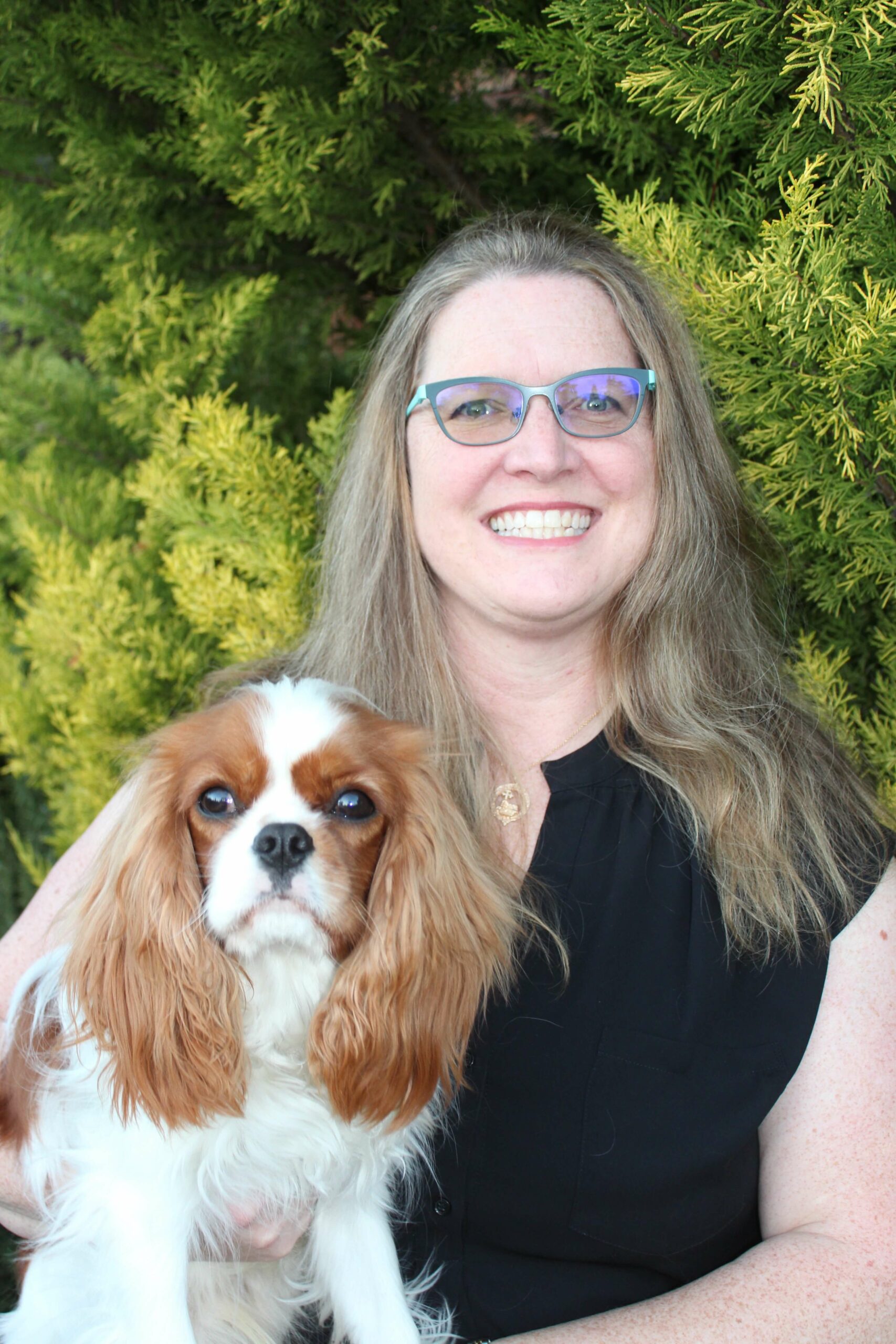 ELIZABETH MACDONALD, DVM
Medical Director & Owner
Dr. Elizabeth MacDonald has over two decades of experience providing state-of-the-art medicine and surgery for dogs and cats. She is thrilled to partner with Dr. Dunn and the family at The Grand Lake Veterinary Hospital to help preserve private ownership of veterinary hospitals. In doing so, she seeks to continue their tradition of excellence through individualized care that comes from thoughtful, compassionate, knowledgeable medicine. She looks forward to meeting old and new patients and fostering the human-animal bonds that help us thrive.
Dr. MacDonald grew up in Piedmont and went to school in Oakland. She is excited to finally be practicing back home. She graduated Phi Beta Kappa from Davidson College, then went on to U.C. Davis Veterinary School, graduating with the Phi Zeta Honors in 2000. She continued her training at The Animal Medical Center (AMC) in New York City, where she completed an internship in internal medicine, surgery, and emergency medicine. AMC was, at the time, the only emergency and specialty veterinary hospital in Manhattan. This means she saw everything from the untouchable guard dog from the Bronx to diamond-studded poodles in Kate Spade handbags. She owned an Irish Wolfhound as a child, and New York taught her to adore all dogs LITTLE as well as all dogs GIANT–and a few sizes in between. Her first love and the driving force behind becoming a veterinarian was, of course, her childhood cat, "Stripes." She was known to arrive home from school as a child, claiming that dogs and cats had just "happened" to follow her home. (Admittedly, there might have been some encouragement on her part.)
Outside of work, she is kept busy raising three human children, a Labradoodle and a Cavalier King Charles Spaniel. She loves to get outdoors whenever possible, be it skiing or hiking, but, in reality, spends a lot of time on the soccer field sidelines cheering.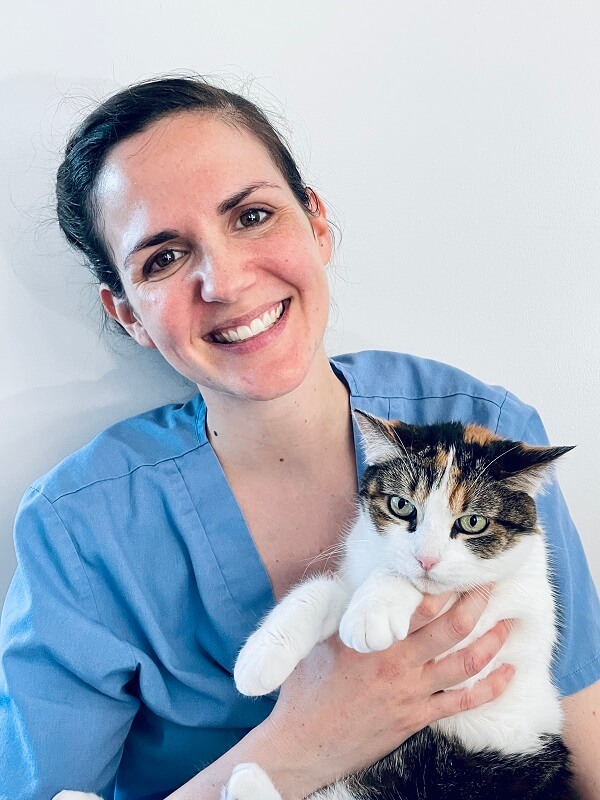 SARA CARABALLO, DVM (she/her)
Dr. Caraballo received her Bachelor's in Animal Science at Cal Poly San Luis Obispo and her Doctorate in Veterinary Medicine from UC Davis. She also completed an Emergency/Rotating Internship at Pet Emergency & Specialty Center of Marin after completing her Doctorate.
Dr. Caraballo loves animals, science, serving her community, and working with her hands. Veterinary medicine is a combination of those things. She loves that her job allows her to be all things to her patients, which makes each day new and interesting. She loves that she gets to care for critters, comfort their owners, and make each doctor's visit just a little less scary for everyone.
She worked at a wildlife rehabilitation center in high school, where she helped care for orphaned nestlings, fledglings, and injured birds until they were ready for release. She had an iron stomach and a can-do attitude, so they gave her a lot of the gross jobs, which she didn't mind because it allowed her to do a lot of fun and cool things too! This "lit the fire" for her in terms of considering veterinary medicine as a career. She also developed a really healthy respect for birds, "which is probably why I don't work with them now!"
Dr. Caraballo wants to be a calming presence for her patients and her clients. She shared, "I remember how scary it was as a child to bring my pet dog, cat, or bunny rabbit to the vet. I hated it because I couldn't talk to them or explain to them why they needed to go to the doctor. I love that now I can bring comfort to the scared dog or cat or owner (young and old!) that comes into my exam room. I'm not scary and I want everyone to see and feel that. Going to the doctor is a necessary part of living a healthy life, and if I can make that experience less of a burden and even a little bit enjoyable, I feel like I've done my job."
Dr. Caraballo's cat, as well as all the pets she's had, has been an endless source of joy, laughter, and companionship. "Our pets are a constant reminder to live in the present and enjoy the simple things – napping on the couch, taking immense pleasure in eating, digging in the garden, enjoying the people we're with. They remind us daily to live our best lives, and they make us better people."
She also loves to cook (and sometimes bake), read, write, play the piano, build art projects with her husband, garden in the summer, and snowboard in the winter.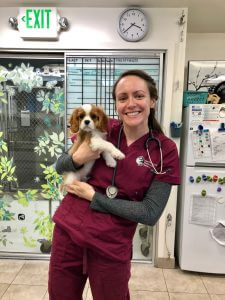 SARAH JONES, DVM (she/her)
Dr. Jones joined us in June 2019. She earned a BS in Animal Biology, an MS in Animals & Public Policy, and a DVM from UC Davis.
She became a veterinarian because she felt it was the best way for her to help animals and the people who want them to be a part of their lives. "I started my first veterinary job in high school at a small animal practice just helping around the office in any little way I could. Knowing that I wanted a career helping animals, I continued to work in veterinary clinics and animal shelters until I realized the role as a veterinarian combines my passion for helping animals with serving people in the community."
We love that Dr. Jones never wants to stop learning and she makes that clear with every patient and client she interacts with. Her goal is to get to the bottom of the immediate concern and help prevent the issue from recurring.
We're excited to have Dr. Jones, her husband, and kitty Tuxy, as a part of The Grand Lake Vet Family. "Despite the fact that she loves my husband just a little bit more than me, our cat is a hilarious companion that welcomes me at the door every day and makes our lives better in so many other ways."
She respects the Oakland A's and considers herself a Giants fan. Dr. Jones chose to join us because of The Grand Lake Veterinary Hospital's emphasis on client education, integration of holistic therapy with western medicine, and commitment to quality hospice care for senior patients. She felt that these values fit well with her own skills and ideals. In her own work, she strives to provide her clients with as much information as possible, allowing them to be a part of the process in making the best decision for their pets.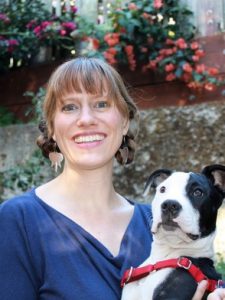 MELISSA PARTIN, DVM
Dr. Melissa Partin grew up in Florida and graduated from the University of Florida with a BS in Zoology. Despite being raised in a tropical climate, she decided to brave the cold to attend veterinary school in a city, earning her DVM from the University of Minnesota College of Veterinary Medicine. In 2005, she fulfilled her dream of making the Bay Area her home. She moved to Sweden and Germany to spend time with family in 2014, and she was thrilled to have found a home at The Grand Lake Veterinary Hospital when she returned.
"I loved the idea of combining science with helping animals and people. I was drawn to the fact that a veterinarian's job is physical and hands-on, as well as intellectual and verbal. Also, the patients are adorable! Pets mean family. They are a connection to nature, something outside of the world of people, things, and technology. At every visit, I try my best to make my patient comfortable and have their parent feel listened to," says Dr. Partin.
Dr. Partin has strong interests in preventative medicine, behavior, and surgery. She volunteered for Rural Area Veterinary Services in Guatemala, on Easter Island and American Indian Reservations. These days, she volunteers with VET SOS, which provides free veterinary care for the pets of people experiencing homelessness. She also tutors children through Reading Partners, a literacy non-profit. She enjoys camping, hiking, city biking, snowboarding, traveling, practicing her Swedish and learning Spanish. Except for one sad year in a college dorm room, she has never lived in a home without four-legged companions (her cats even went to Europe when she lived there). Her current menagerie includes her human family made up of a husband and son; kitties Diego and Leon; and a pit bull-shaped mix breed named Ned (pictured).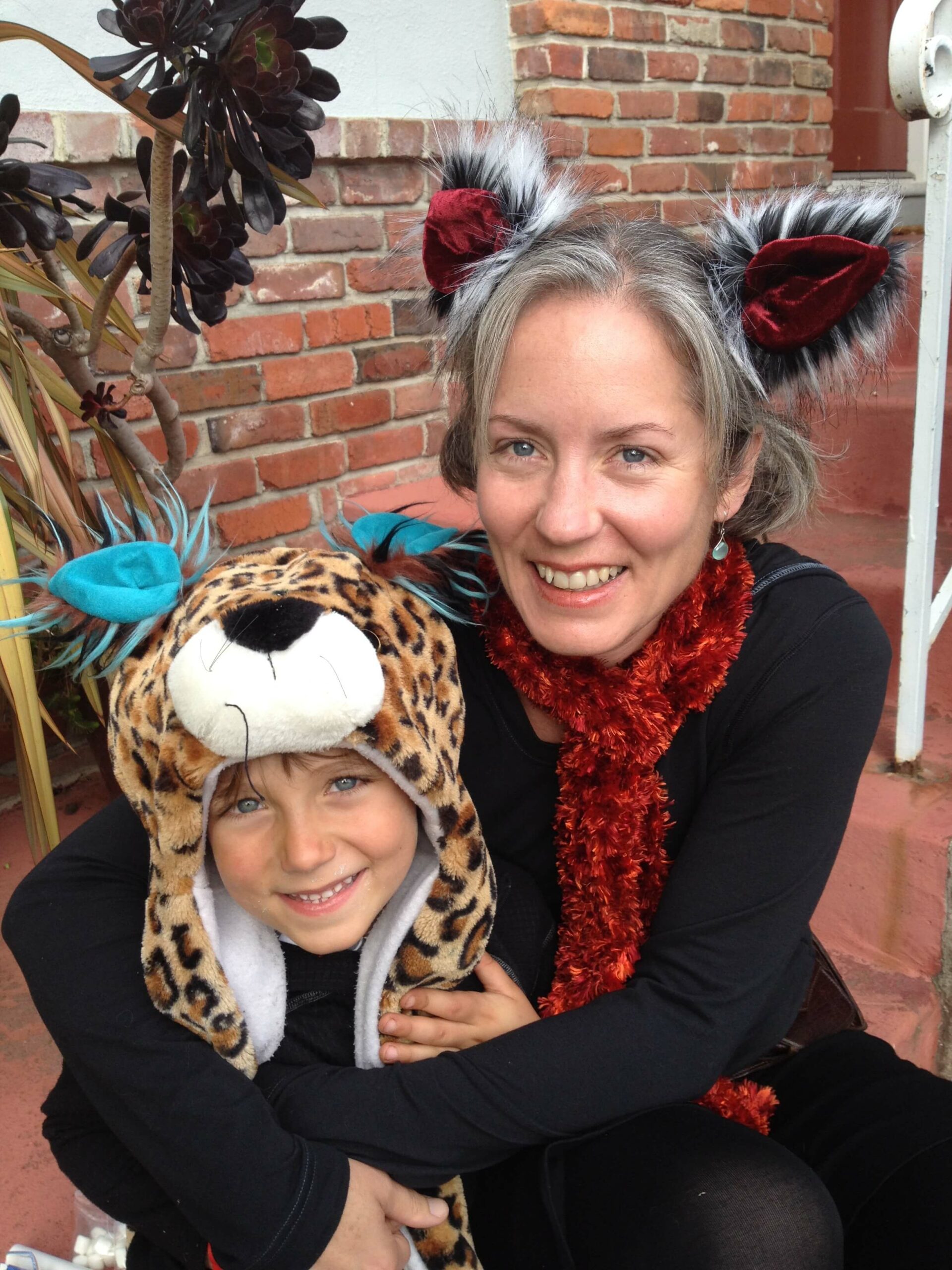 LYDIA WOOD, DVM
Dr. Lydia Wood has been committed to helping animals for 25 years. She volunteered at the Marine Mammal Center in 1993 while attending Mills College, and this experience led her to a job as a vet tech. She realized that this was her calling and she returned to school to obtain her DVM at U.C. Davis in 2006.
Lydia grew up in Milan, Johannesburg, Paris and Brussels. As she had never lived in the United States, she decided to go to college here! She has lived in Oakland on and off since 1990 when she attended Mills College.
Lydia enjoys dealing with a variety of subjects each day, from ophthalmology to dentistry to surgery and medicine. Diagnoses and treatment options for animals are becoming more complicated as science progresses. Lydia enjoys talking through possible options and outcomes to help people make the right choices for their pets and their families. She understands that often there is no one right answer but grey areas that need to be addressed to find the proper path forward.
Lydia spends her spare time with her partner, her son, her rescue dog and her stray cat. She has a passion for the outdoors and California and all the adventures it has to offer.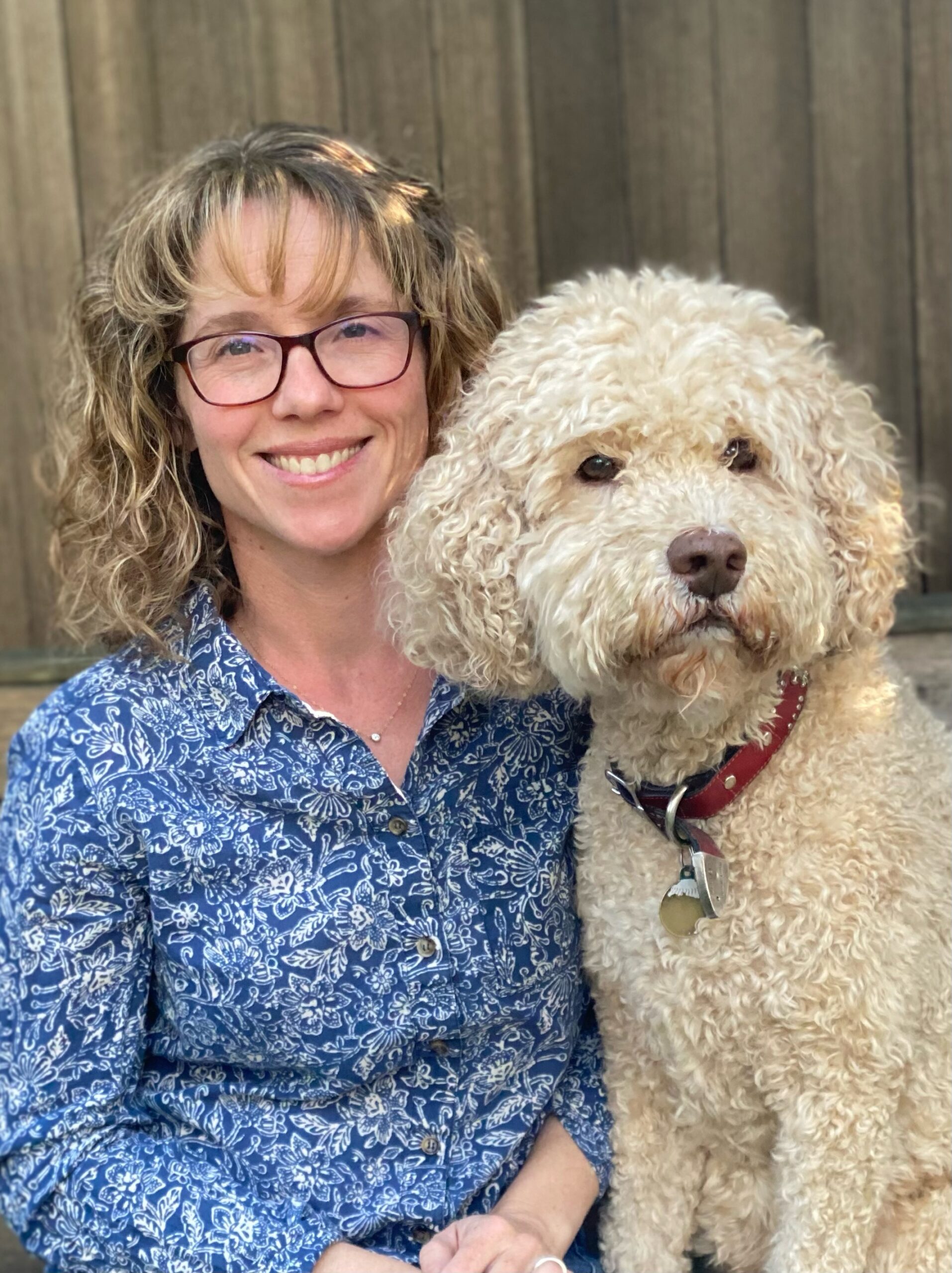 REBECCA ABRAMS, DVM
Dr. Rebecca Abrams grew up in northern California and received her bachelor's degree from Northwestern University. While there, she earned honors in Environmental Sciences for her senior thesis about invasive plants in the Sacramento-San Joaquin Delta. She also studied Spanish and earned a varsity letter in cross-country running yet found time to volunteer at a small animal veterinary hospital. She was hired as a veterinary assistant where her interest in veterinary medicine grew, confirming her decision to apply to veterinary school. She realized that becoming a veterinarian would allow her to combine her love of animals with her interest in medicine.

She was awarded her DVM from the University of Minnesota College of Veterinary Medicine in 2010 and was inducted into the Phi Zeta honor Society for her academic achievements. Dr. Abrams moved to the Bay Area to complete an internship at East Bay Veterinary Specialists and Emergency and has been practicing in the area ever since. Dr. Abrams has a passion for general practice and forming bonds with her clients and patients, and she has a special interest in geriatric care and internal medicine.
Outside of work, Dr. Abrams enjoys playing tennis, gardening, snowboarding, and spending time with her husband, two children, and labradoodle Gus, her constant companion and friend.