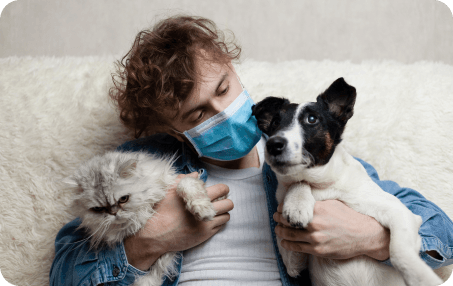 As the challenges of the pandemic begin to ease, we are choosing to reopen in phases to ensure the safety of our staff and clients.
Beginning March 22, 2022, we will reopen our lobby to the public. We can't wait to see you!
While Alameda County is dropping the indoor mask mandate for vaccinated people, we are not yet easing restrictions on mask wearing inside our hospital. Our staff are fully vaccinated and boosted against COVID-19, and we require that our clients who choose to come inside be too.
To enter our building, you must:
A) Have been fully vaccinated and boosted (if eligible)
B) Wear your mask properly
We all share the same airspace. Masks must cover your mouth and nose AT ALL TIMES when you are inside the building.
If you need to remove your mask for any reason, please step outside of the building.
Your mask MUST remain over your nose and mouth, even when you are in an exam room alone.
We are happy to provide curbside service for you if you are unvaccinated or would prefer curbside care.
The doctors and staff of The Grand Lake Veterinary Hospital have been working throughout the COVID pandemic; we have never closed. Our safety practices have kept our staff and clients safe and have prevented us from having an outbreak in our hospital.
Our staff have lived in NIOSH masks for 10 hours a day, not able to remove masks in the hospital for months on end. Like you, we are tired of wearing masks; however, we are not willing to compromise our patients' care by closing. Wear your mask properly and we will happily take care of you and your pets in person and avoid you having to wait at an ER.
We thank you for your continued support, kindness and patience!
FOR CURBSIDE SERVICE
When you arrive for your pet's appointment, please text 'WOOF' or 'MEOW' to (510) 350-8538 and be prepared to wear a mask. Remin in your vehicle and our staff will let you know how to proceed.
When we are ready to see your pet, one of our staff members will let you know.
We will examine your pet and take vitals, and then the doctor will call you to discuss any findings, recommend treatment or testing if necessary, and provide an estimate of costs.
If we need to follow up, we'll give you a call, and of course you are welcome to contact us if you have any questions.