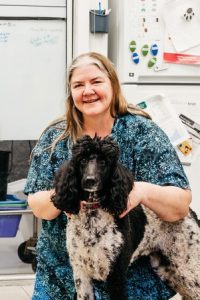 ELEANOR DUNN, DVM
Medical Director & Owner
Dr. Eleanor Dunn has been committed to providing extraordinary veterinary care to patients and their families in Oakland for over 30 years. She is the founder of The Grand Lake Veterinary Hospital and is a skilled medical diagnostician as well as a general practice surgeon. Dr. Dunn strongly believes in a holistic approach to veterinary medicine, integrating all her years of training in medicine, surgery, and dentistry with acupuncture, herbal therapy, and nutritional therapy. Her passion for helping her patients live the happiest, healthiest lives they can through individualized care is evident in everything she does. Her goal is to educate clients and make her patients and their families feel valued and taken care of. Her guiding philosophy is that life feels more full when you extend yourself to others.
Dr. Dunn started her journey to becoming a veterinarian as the youngest of seven children in Illinois. The household abounded with cats, dogs, mice, and rats. In high school, she gained experience with goats, sheep, pigs, and cows on her brother's farm. She attended Middlebury College, graduating summa cum laude. She created her own major in biology and physics and worked in human medical research in neonatology and ultrasound. She went to the University of Illinois Veterinary School, graduating salutatorian in 1986. While she will always have a love of research, veterinary medicine combined her passion for science with her love of animals and sharing her knowledge with the families that own them.
Dr. Dunn has always been a knowledge seeker. She is not satisfied until she has answered the question, "why, or how can we do better?" She was a boarded diplomat of the American Board of Veterinary Practitioners for 20 years. Later in her career, frustrated that western medicine alone did not have all the answers, she became certified in veterinary acupuncture. She also extensively studied nutrition therapy and Chinese herbal medicine. She brings her research background and evidence-based eye to everything. Don't be surprised if she says "Well, the clinical research says…" during your visit.
When not at the hospital, she enjoys spending time with her husband, two children, cat Tigerlily, and dog Zephyr. She is a long-time supporter and board member of the Friends of Sausal Creek, which has worked for decades to restore Oakland's prized Dimond Park and Canyon. She loves hiking, nature, gardening, studying local history, and genealogy.