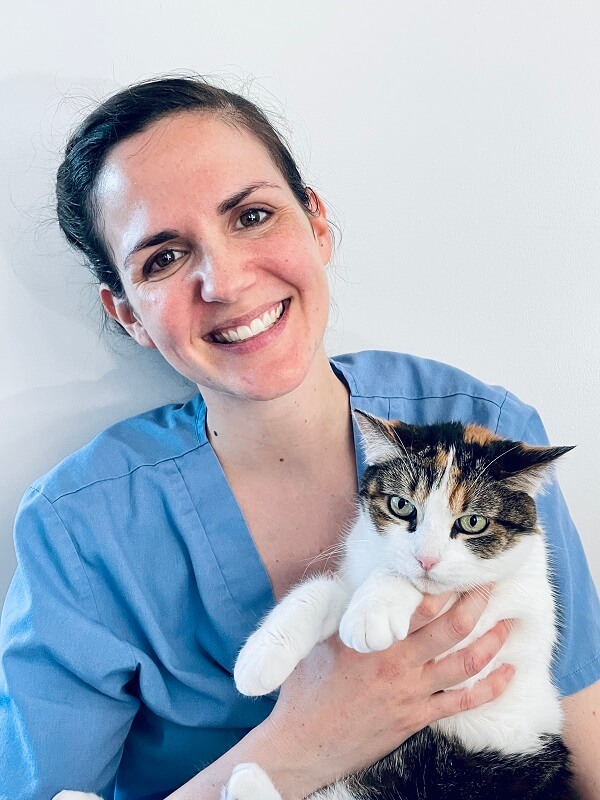 SARA CARABALLO, DVM (she/her)
Dr. Caraballo received her Bachelor's in Animal Science at Cal Poly San Luis Obispo and her Doctorate in Veterinary Medicine from UC Davis. She also completed an Emergency/Rotating Internship at Pet Emergency & Specialty Center of Marin after completing her Doctorate.
Dr. Caraballo loves animals, science, serving her community, and working with her hands. Veterinary medicine is a combination of those things. She loves that her job allows her to be all things to her patients, which makes each day new and interesting. She loves that she gets to care for critters, comfort their owners, and make each doctor's visit just a little less scary for everyone.
She worked at a wildlife rehabilitation center in high school, where she helped care for orphaned nestlings, fledglings, and injured birds until they were ready for release. She had an iron stomach and a can-do attitude, so they gave her a lot of the gross jobs, which she didn't mind because it allowed her to do a lot of fun and cool things too! This "lit the fire" for her in terms of considering veterinary medicine as a career. She also developed a really healthy respect for birds, "which is probably why I don't work with them now!"
Dr. Caraballo wants to be a calming presence for her patients and her clients. She shared, "I remember how scary it was as a child to bring my pet dog, cat, or bunny rabbit to the vet. I hated it because I couldn't talk to them or explain to them why they needed to go to the doctor. I love that now I can bring comfort to the scared dog or cat or owner (young and old!) that comes into my exam room. I'm not scary and I want everyone to see and feel that. Going to the doctor is a necessary part of living a healthy life, and if I can make that experience less of a burden and even a little bit enjoyable, I feel like I've done my job."
Dr. Caraballo's cat, as well as all the pets she's had, has been an endless source of joy, laughter, and companionship. "Our pets are a constant reminder to live in the present and enjoy the simple things – napping on the couch, taking immense pleasure in eating, digging in the garden, enjoying the people we're with. They remind us daily to live our best lives, and they make us better people."
She also loves to cook (and sometimes bake), read, write, play the piano, build art projects with her husband, garden in the summer, and snowboard in the winter.