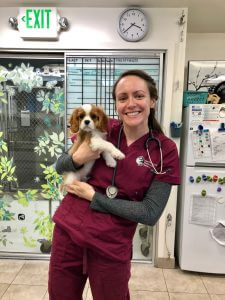 SARAH JONES, DVM (she/her)
Dr. Jones joined us in June 2019. She earned a BS in Animal Biology, an MS in Animals & Public Policy, and a DVM from UC Davis.
She became a veterinarian because she felt it was the best way for her to help animals and the people who want them to be a part of their lives. "I started my first veterinary job in high school at a small animal practice just helping around the office in any little way I could. Knowing that I wanted a career helping animals, I continued to work in veterinary clinics and animal shelters until I realized the role as a veterinarian combines my passion for helping animals with serving people in the community."
We love that Dr. Jones never wants to stop learning and she makes that clear with every patient and client she interacts with. Her goal is to get to the bottom of the immediate concern and help prevent the issue from recurring.
We're excited to have Dr. Jones, her husband, and kitty Tuxy, as a part of The Grand Lake Vet Family. "Despite the fact that she loves my husband just a little bit more than me, our cat is a hilarious companion that welcomes me at the door every day and makes our lives better in so many other ways."
She respects the Oakland A's and considers herself a Giants fan. Dr. Jones chose to join us because of The Grand Lake Veterinary Hospital's emphasis on client education, integration of holistic therapy with western medicine, and commitment to quality hospice care for senior patients. She felt that these values fit well with her own skills and ideals. In her own work, she strives to provide her clients with as much information as possible, allowing them to be a part of the process in making the best decision for their pets.