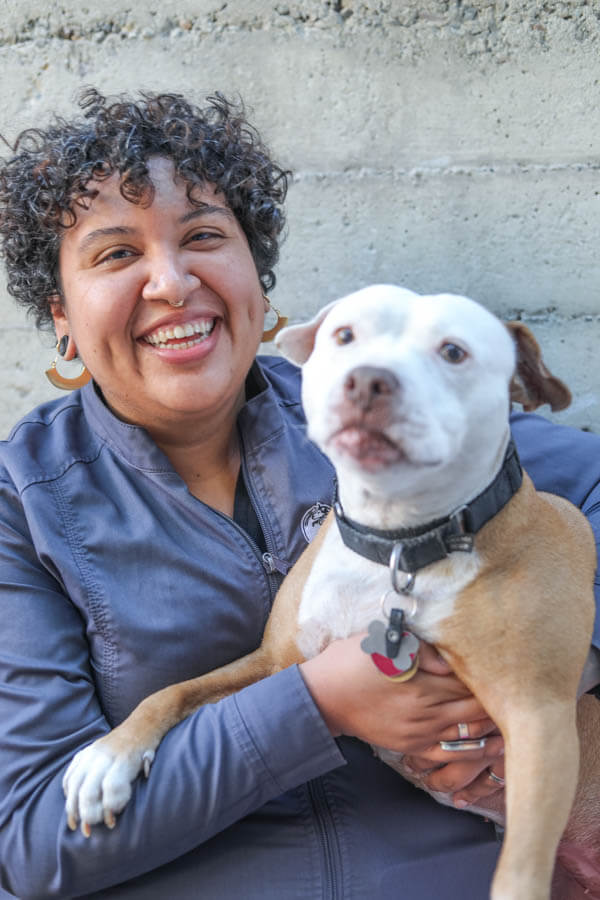 ANYA (She/They)
Hospital Manager
Over the years, Anya has learned how much she loves interacting with people, and how good it feels to make someone's day better. She's found it incredibly rewarding to be an important part of the client and patient experience. She got her first cat, Oscar, while working at her first practice. "He has changed my life for the better. I fell in love with this field because I brought Oscar home and realized that the people we help, love their pets the same way I love Oscar," Anya says.
As the hospital manager at Grand Lake Vet, she tries to keep things as positive as possible. "My goal in every interaction is to leave each client feeling like they just had the best experience possible. Even when I have to have difficult conversations, I try to actively listen and empathize. That goes for staff too! I try to treat people the way I want to be treated. Everyone is doing the best they are capable of at that moment."
For Anya, "Pets mean unconditional love and family." Her family is made up of her wife (who she knew was her soulmate when she showed her a picture of her cat two minutes into meeting each other), their daughter, and their zoo. Frida and Spock, her two cats, guard the homestead. Little miss Johnny Cake, the friendliest Staffordshire Bull Terrier in East Oakland, comes to work with her every day. She's the cutest little pit bull, with a huge personality.
Anya is proud to work at Grand Lake Vet and be a part of building the team here. "I love how gentle and compassionate everyone is at Grand Lake Vet, and that doesn't just apply to how our clients and patients are treated, but also how we treat each other. The veterinary field is incredibly rewarding, but depression, compassion fatigue, and burnout are realities we all face, no matter what your position is in a practice. I've never worked somewhere where people take care of each other as we do at Grand Lake Vet. There's no judgment, and we respect each other. We celebrate and grieve together. I feel like Grand Lake is a part of my family."
Anya is working on becoming a Certified Veterinary Practice Manager. In her spare time, Anya tends to her indoor jungle of houseplants or she and her family explore the Redwoods and East Bay trails with their dog Johnny Cake. "My dog Johnny Cake's name is a nod to my Belizean heritage. She's a sweet little Caribbean biscuit!"
---