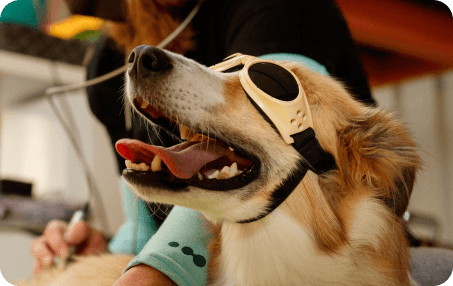 Alternative Therapies
Laser Therapy
Laser therapy is an innovative technology used to treat acute and chronic injuries. It has been successfully used to accelerate the healing process after surgery, alleviate joint pain, and treat degenerative diseases.
Laser therapy focuses red and infrared light on tissue at and below the surface of the skin. The light energizes the cells, producing a structural protein called collagen used to repair tissue. Lasers continue to promote healing by supporting vascular dilation and synthesis, increasing blood circulation to the affected region. The stimulation also releases the body's own pain-relieving hormones.
The process generally takes between 5-10 minutes, with most patients seeing positive effects after 3-5 uses. The treatment continues to relieve pain and fight inflammation for up to 24 hours following the session.
Conditions improved with laser therapy include:
Hip dysplasia
Post-surgical incisions and soft-tissue trauma
Arthritis and degenerative joint disease
Musculoskeletal injuries
Neuromuscular disease
Laser therapy is normally combined with other types of veterinary medicine including pharmaceutical regimens and alternative treatments. The broad biochemical benefits and lack of adverse side effects have made laser therapy the preferred post-operative rehab method in veterinary medicine.
If you would like to know more about laser therapy and if it could benefit your pet, contact us at 510-350-8538.
Acupuncture & Chinese Herbs With Dr. Dunn
Acupuncture is a 3000-year-old Chinese practice utilizing hair-thin needles to stimulate the body's nerve centers, improving blood circulation and releasing pain-relieving hormones. This virtually painless process relaxes muscle tissue and oxygenates the surrounding area, allowing the body to heal more rapidly.
Many disorders can be treated with acupuncture including:
Neurologic and soft tissue pain
Arthritis
Allergies
Gastrointestinal issues
Musculoskeletal systemic problems
Skin conditions
Respiratory distress
Acupuncture is one of the safest veterinary treatments available. It requires no pharmaceutical assistance, removing the possibility of overdose and adverse reaction and can be used in conjunction with most other traditional and alternative treatments.
At The Grand Lake Veterinary Hospital, we believe in whole body care. Veterinary acupuncture is a way to treat a plethora of conditions by restoring balance in the body. Dr. Eleanor Dunn received her certification in veterinary acupuncture in 2009; her holistic treatments can be seamlessly integrated with Western medicine.
At The Grand Lake Veterinary Hospital, we are proud to offer Chinese herbal therapy for our patients. As more and more people find success using herbal therapy for themselves, they start to wonder about helping their pets using the same therapies. Chinese herbal therapy has been around the longest – with the best success. Many veterinarians use them in conjunction with traditional medications because they seem to work well together.
Chinese herbal therapy can be used for many different diseases and conditions, including pain management, allergies, and immune system problems. It has also proven to be useful with skin, digestive, and respiratory problems.
We make sure to stock only the highest quality of Chinese herbs available. We only use herbs that are specifically made for pets to avoid any adverse reactions. The most common problem is diarrhea and that can be easily fixed by changing the dosage. Chinese herbs come in many forms so that owners can decide the best way to give it to their pet. They come in powder, capsules, and even biscuit form!
If you have any questions about Acupuncture or Chinese herbal therapy and how it can help your pet, call us at (510) 350-8538.