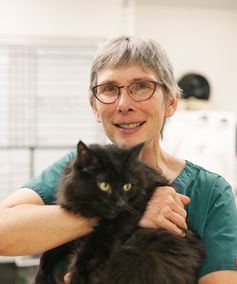 BARBARA
Registered Veterinary Technician (Remote)
​Barbara is one of our registered veterinary technicians, and previously, she was a technician at Lake Vet.
When asked why she chose veterinary medicine, Barb explains, "I love how animals are so direct with their feelings, and I'm fascinated by the science and art of medicine that our DVMs perform every day."
Her career in veterinary medicine began in 2010. She worked in a small practice after graduating from Portland Community College with a degree in veterinary technology, and she became a licensed technician in Oregon (which she maintains). Barb also has a master's degree in library science and was a librarian and system administrator prior to changing careers to work with animals. She still loves public libraries and believes they are critical institutions in our democracy. But she is so very glad to be working with animals every day (and we are so glad she is too!).
We love Barbara because she approaches all her patients with a calm demeanor and uses a gentle touch. She is incredibly knowledgeable, caring, and a pleasure to be around. Her goal is to make everyone comfortable, welcome, and to be responsive to their reason for being here.
For Barb pets are a part of the family; they're what makes a home warm. She aims to live by the golden rule and applies it to interactions with her patients and their people. To Barb, working at The Grand Lake Veterinary Hospital means she can be "grateful every day to work with wonderful teammates, colleagues, and doctors who share the same goal of providing the best possible care and kindness to our patients and clients."
Barbara and her human partner live in Portland with a rescue kitty named Miss Maisel and a cattle dog mix named Cisco.