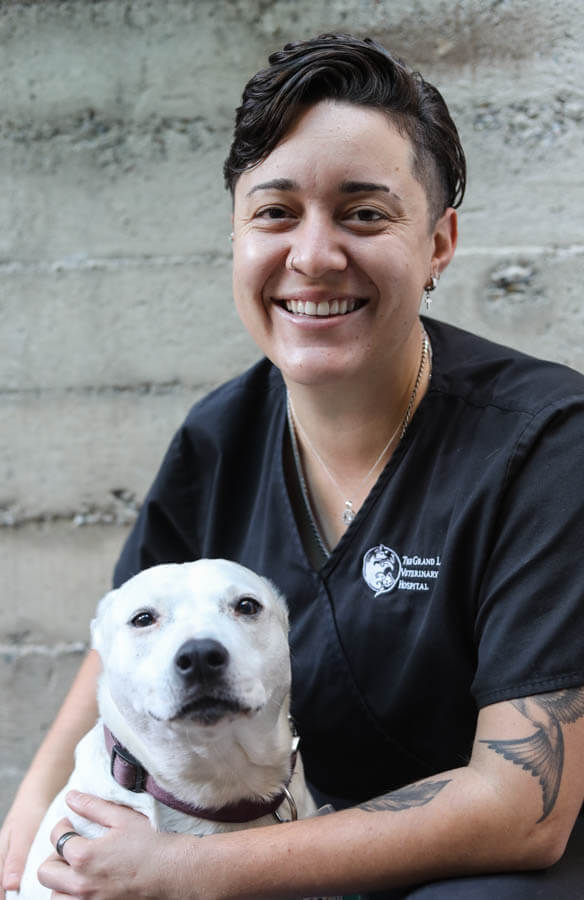 Raquel (They/Them)
Veterinary Assistant
Raquel joined Grand Lake Vet in August 2019 after working at the East Bay SPCA, primarily focused on animal behavior and adoptions. They were excited to come to GLVH to further their knowledge of animal medicine and to work with a team that came recommended by a friend and former co-worker. They love working with us because, "We all have the same goal of treating each other with the utmost respect, caring for the client, and doing what is truly best for the patient. I am so happy to be part of this team that really feels like a family. I only hope to add positivity and help wherever I am needed!"
Raquel grew up around animals and helped train and care for their friends, family, and neighbors' pets. They moved to the Bay Area and found a position as a dog handler. "I did not realize a job as a dog handler even existed until I moved up to the Bay Area. I was ecstatic that my job was taking care of dogs all day." Four years later, they found their way to the East Bay SPCA, helping pets find their forever homes and educating their new families on how to care for them.
Their goal is to brighten every person and creature's day. They want to help and give hope to everyone going through a tough time, make people smile, and ensure their pets get the best care possible. They come to work everyday and practice their mantra: "Be kind, always, and spread love."

Raquel lives with their two cats, Mowgli and Gigi. Their pets mean everything to them and are always around for a good snuggle, or an even better, a good laugh when they are up to kitty shenanigans.